Yogateacher-education in only 2 weeks in Sweden or in summer in Sardinia
Yogateacher-education intense and effective means the following:
Before breakfast we have 2 lessons with practical hatha-yoga between Monday and Friday (90 minutes totally) with the yoga-teacher Monika Hornig. You learn the right breathing, relaxation, yoga for eyes, noes and neck as well as 32 hatha-yoga-exercises.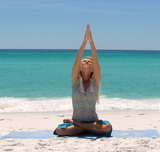 After breakfast you take one lesson yoga-theory with the following:
Everything about hatha-yoga, relaxation, breathing, yogaphilosophy, Indian mythology, chakras, Western and Eastern view of yoga, yoga for pregnant women and more.
Against which disease you have to do which exercise, which exercise you should not do with certain diseases?
What are the physical, mental and psychological advantages with which exercise?
In the end you do a yoga-theory-test and during the course you give several practical lessons in order to train teaching of yoga.
You get a certificate and material you can start to give lessons with rightaway.
Price for this yogateacher-education:
The whole course including 2 weeks overnight with half-board in double-room, material and diploma 3.200 euros plus 25% VAT.
Single-room-supplement 300 euros.
You are welcome to take your yogateacher-education as private lessons without paying more and when it fits into your calendar.
Or you can take it on Sardinia for the same price between the beginning of July and the beginning of august.  During the time before the middle of june and after the middle of august,  you are welcome at the yoga school in Mellbystrand/Sweden.
My client G.O.says: "I never thought that my body would become so flexible in only 2 weeks and thanks for all the knowledge and material you gave me so that I can start the yoga business right away".