Specific language course for your job
Specific language course, that´s what you need in your job.
Maybe you´re good in English, but need the tecnical expressions. Welcome to the course "tecnical English". The courses consist  of 20 lessons per week.
You can even book other specific languages like American English.
If you want to work in Sweden or with Swedish clients, you might need one of the following courses:
medical Swedish, gastronomical Swedish, logistics-Swedish, Swedish for gardeners, Swedish for working in the woods, Swedish for mecanics, touristic Swedish.
Your business partners are Germans or you aim for working in Germany?
Take German for logistics, German for tourism.
Price for private persons:
650 euros  for 20 private lessons plus 25% VAT
550 euros for 20 private lessons plus 25% VAT if you book 2 people or more
Overnight:
500 euros plus 25% VAT  per person and week in a double-room with half-board
650 euros per person and week in a single-room with half-board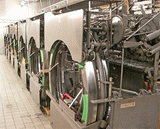 You decide yourself if you want to do your course in the language school in Southern Sweden or in a typical village on the West-Coast of Sardinia (between the middle of July and middle of august).

If you need some more basic knowledge before, book a general language-course.
Or maybe you need even a business language-course. 
If you move to Sweden, I can help you with my relocation-service Sweden.