LIFE COACH EDUCATION IN SWEDEN
Take a life coach education in Mellbystrand in the province of Halland. Intense an effective in only one week.
There are so many people who have problems managing their own life. They don´t have a stability inside. They have no aims in life.  They feel destroyed because of something happened in life. They need help and a person who got the tools to help.
Did you ever want to work with people? Help them with your own strength? Are you sensitive enough? I have been working as a life coach for 15 years. And I still love it and want to give my knowledge to you. Are you ready for it?
In this life coach education you get the following courses:
– training of the intuition
– psychic training
– the secret
– healing
– meditation
During your life coach education in Mellbystrand/Halland/Sweden, you live at the school. On the wonderful 13km long sandy beach called Mellbystrand. This beach belongs to the province Halland in Sweden on the West Coast.
Price for one week (arrival and departure on Saturday) of life coach education:
1600 euros plus 25% VAT in a double room. Single room supplement 150 euros plus 12% VAT.
Group discount: if you are 2 persons, you play  100 euros less per person.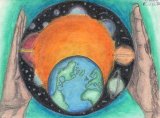 You can even take your life coach education in Sardinia between the middle of July and the middle of august.