Spiritual development in Sweden, Sardinia or Tenerife
Did you ever think about developing your soul?
We all got a power within us. But we never used it,  because we didn´t learn HOW to use it.
You can realize all you got in your mind.
Take the adventure to meet your inner self. And you willl learn a lot about yourself and other people.
Make a holiday in Sweden and choose between the following courses: training of the intuition, the secret, meditation, healing or reading the cards.
During this spiritual holiday in Sweden, you live in a typical Swedish house and will be spoiled with international food (half-board).
In your leisure time, you will explore the beautiful surroundings like the beach, river and forest in closed vicinity.
You can even combine a course in spiritual development with yoga or language course.
But you can even make your holidays in a typical village close to the wonderful beach on the West Coast of Sardinia, between the middle of June and the end of July or in certain weeks during winter-time even on Tenerife.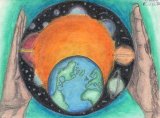 You are welcome wherever!